I'm gonna put this right at the top if you feel like you need to "cut to the chase"…Here's the eighth installment of "Beethoven of the 'Ukulele", including a performance of pages 7 and 8 of the Pastorale solo transcription:
When I was a kid (we're talking the late 1970s!), it was all about the LP. For you youngsters, "LP" refers to "long-playing" record, and it was the dominant format for recorded music when I was growing up.
My parents had a collection of LPs, most of them scratched up from the abuse I and my younger brothers had inflicted upon them as toddlers. As I entered fifth grade and started to become more interested in music, I was surprised that, in spite of the damage, many of my parents' records were still playable. It was from this collection that I first heard Schubert's "Great" Symphony in C major, Haydn's Trumpet Concerto, and the soundtrack to Oklahoma!
In sixth grade I started reading about Beethoven, but there was none to be found in my parents' record collection. Sadly, I lived in Moab, Utah, a small town in what seemed like the middle of nowhere. In the late 1970s it was possible to buy pop and rock records in Moab (the latest hits by Kiss, Peter Frampton, the Bee Gees, etc.). It was almost impossible, as far as I could tell, to buy classical recordings. So, I looked forward to visiting my grandparents, who lived in the thriving metropolis of Orem, Utah. When in Orem, we went to the mall and visited the Record Bar, a chain of record stores that had a selection of classical music. There I purchased the first record I actually owned myself: a budget-reissue LP on the Odyssey label that contained Beethoven's Fifth Symphony on one side and Schubert's "Unfinished" symphony on the other, performed by Bruno Walter conducting the New York Philharmonic and the Columbia Symphony Orchestra:
I obsessively listened to the Beethoven fifth and when became my favorite piece of music, I needed to hear more Beethoven symphonies. With the next trip to the grandparents a long way off my only option seemed to be to visit Royce's Electronics, Moab's local Radio Shack franchise. Royce's also sold LPs and was able to special order records they didn't stock. I excitedly looked through their copy of the Schwann Catalog, and ordered what looked like the perfect set for my budget: a three-disc set of Bernstein leading the New York Philharmonic in four of the nine Beethoven symphonies: No. 3 (the "Eroica"); No. 5 (of course, I already had a recording of the fifth, but I was savvy enough to know I would get some different insights listening to a different conductor); No. 6 (the "Pastorale") and No. 7.
What I expected:
It took several weeks to arrive. When the order finally came in, I was unpleasantly surprised. Somehow there was a mistake, and I didn't get the album I wanted. It turned out to be a three-record set, but only one of the records had actual music, the Beethoven 6th Symphony. The other two were just Leonard Bernstein talking. It was the third installment of something called the "Norton Lectures", a set of six lectures Bernstein presented at Harvard University in 1973.
What I got instead: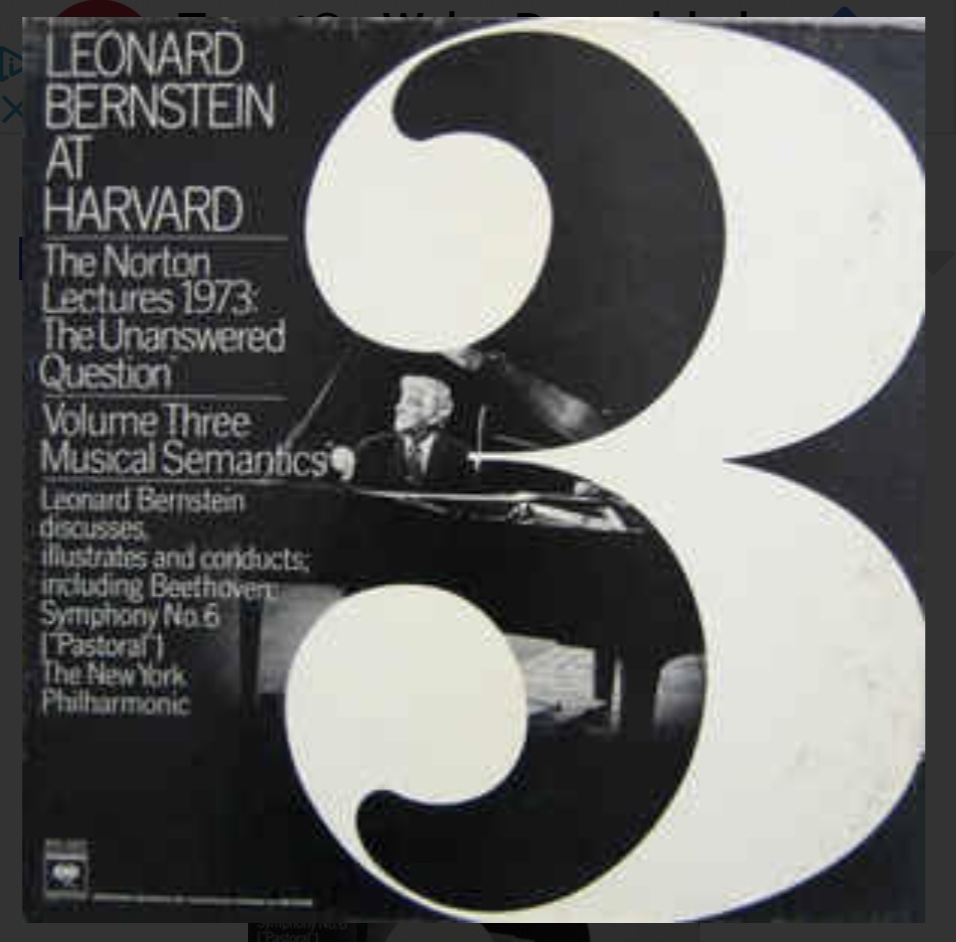 I don't remember if I asked Royce's Electronics to take it back and get me the correct album or if I just decided to keep it because it seemed like too much trouble to explain to them that there had been a mix-up. I do remember being disappointed that I wouldn't get to discover the 3rd or the 7th symphonies right away. However, I did listen to the lecture several times and was fascinated by what I heard. Bernstein discussed the compositional techniques Beethoven used in the Pastorale symphony in linguistic terms. He talked about how Beethoven used metaphor, simile and ambiguity. He suggested listening to the Pastorale on its own musical merits without associating it with scenes from nature. I felt smarter by listening to the lecture, and felt like I had a much deeper understanding of what made the music work. And there was so much to think about-the music was deep with layers of meaning, offering immense new rewards with each listen.
The Pastorale replaced the Fifth at the top of my list of favorites. I listened to it whenever I had the chance, sometimes even running home during my middle-school lunch hour so I could listen to a little bit of it in the middle of the day.
That was over forty years ago. Times have changed. You don't have to special order a record and wait for it. No matter where you live, you can call up a recording of any piece of music you want to hear instantly, probably using the same device you're using to read this blog. If you want to hear (and see!) the lecture I'm talking about, you simply have to click on the link below. The lecture is about 90 minutes long, but well worth your time:
Thank you for joining me on this journey. I love to hear from you, so please get in touch with any comments or questions you have. If you haven't already, sign up for the Beethoven of the Ukulele newsletter and share it with your friends!
all the best–
James